A small roller coaster for sale is a moderate thrill ride popular with children and families. If you are planning a theme park or amusement park for kids, this small coaster equipment is a must-have. Here are three types of TR small coaster for your reference, the family roller coaster, the child's roller coaster, and the mini shuttle roller coaster. Also, you can find other thrill rides and family rides at our factory.
Why Are Small Coaster Rides Necessary for Your Entertainment Business?
When coaster rides are mentioned, we immediately think of the crazy roller coasters in large scale at an amusement park, theme park or fairground. These extreme roller coasters are exciting and fun, appealing to the masses, especially young people and thrill seekers.
However, most crazy roller coaster rides have a minimum height requirement for riders. Besides, these thrill rides are so exciting that some groups of visitors especially the little ones in a family are not allowed to ride the roller coaster. In order to meet the demand of all visitors, we have designed and produced several types of small roller coasters for sale. This type of amusement park roller coaster has been popular with families since its appearance. It may not seem as exciting as a large roller coaster, but it is fun enough for kids. Therefore, if you plan a children's amusement park, a TR small carnival roller coaster for sale is a must-have. Parents and their children will have a memorable experience.
Is the Small Roller Coaster Suitable for Families to Ride?
We design medium-sized family roller coasters which fall into the category of small roller coaster for sale. Compared with our kiddie coaster ride, our coaster ride for family has a more complicated layout with climbs, turns and slides, but without the larger elements such as inversions that are included in a big coaster. So it's available to people of all ages who will have memorable memories of riding and enjoying roller coasters with their families.
Capacity and design of TR roller coaster cabins
As you know, the track of a coaster ride is a complete loop, on which the roller coaster train, also known as the cabin, moves rapidly up and down. For our family coaster, it consists of eight cabins, each of which can hold two passengers. Generally, the cabins are in the shape of cars or animals, such as snakes, frogs, dragons, and caterpillar. But if needed, we can customize the cabin style, color and number to meet your needs. So feel free to let us know your needs.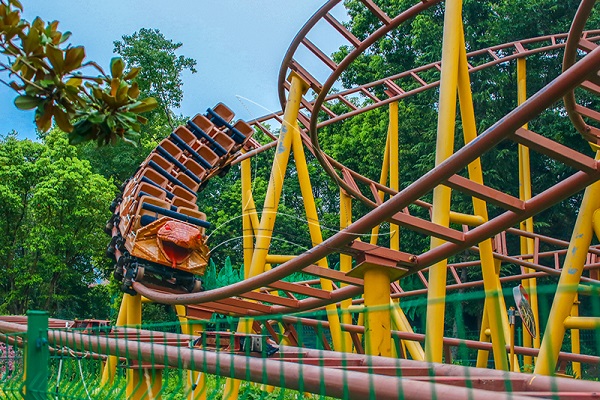 Size of the whole coaster equipment
Moreover, although our family roller coasters run at a high speed, you need not worry about your visitor's safety. All TR roller coasters are produced under a strict product control system and are tested several times before being put into use. In addition, it has a total track length of 290 meters and a running height of 11 meters. If you have interest in this ride, you should place it in a 47*30m area. By the way, we can also customize the size, shape and color of the track as you wish.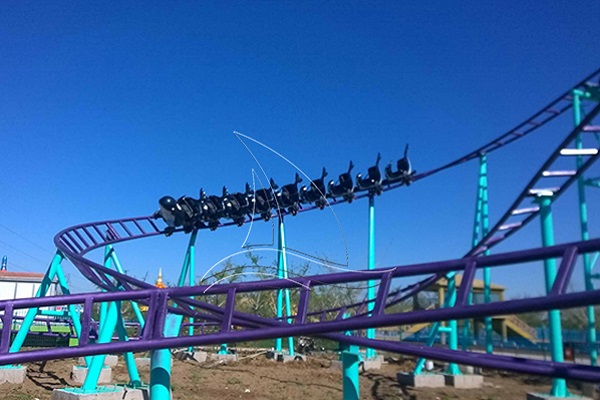 Don't hesitate any longer, a family roller coaster must be an anchor attraction at your park!
Which Kiddie Roller Coaster for Sale Is Popular?
Our kiddie coaster ride is also a kind of small roller coaster for sale. To give kids a taste of what it's like to ride a roller coaster, TR has designed and manufacture different types of roller coasters, such as the dragon roller coaster, the wacky worm roller coaster, the pharaoh roller coaster, the crazy mouse and the penguin spinning car. These rides, with their novelty designs, give passengers a sense of pleasure.
Kid's wacky worm coaster for sale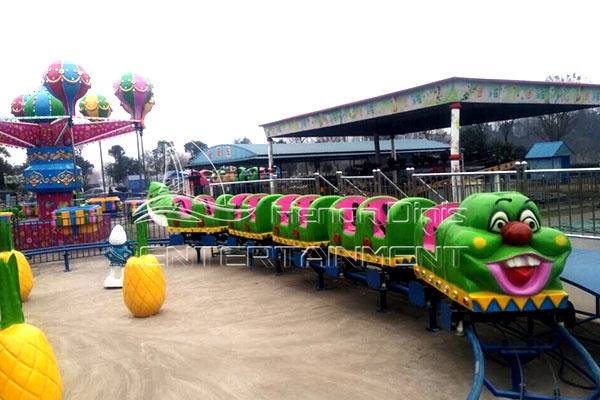 Among the many types of kiddie coasters, the wacky worm coaster, also known as the Big Apple, is one of the funniest cartoon designs popular with children. We design this new type of amusement park ride to meet the market. The main body of the coaster is a green fruit worm with an odd but funny face. It consists of five or six cabins, capable of holding fourteen or eighteen passengers. Our worm roller coaster train performs twice on a track with a height of only 2.5 meters. But if you want, you can set the run time by yourself. Furthermore, each cabin has safety belts and grab bars. So kids can enjoy and have fun with our equipment in a safe environment.
Backyard roller coaster for sale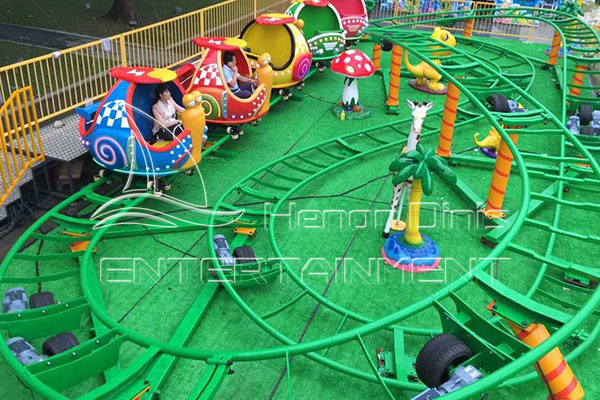 Honestly speaking, because of the the size of our roller coaster kiddie ride, you can also call it a backyard roller coaster for sale. In addition to backyards, our small coaster ride for child is suitable for many places such as amusement parks, theme parks, gardens, parks, shopping plazas, malls, fairgrounds, carnivals, and any indoor or outdoor places. By the way, we offer customized services to our customers. As a result, the track size and shape as well as the cabin design and shape can be customized to match the venue area as your requests. So please feel free to contact us and let us know your needs.
Mini Shuttle Coaster – Special Design of Small Coaster Ride for Children
This shuttle coaster is a new type of small roller coaster for sale at TR, specifically designed for children. It has a modern interchange track. Ten sports cars in bright colors run simultaneously along the track direction in an automatic steering system. With colorful lights and beautiful music, children will get a happy and memorable experience from the mini shuttle coaster amusement ride. By the way, this simple but fascinating equipment is suitable for any indoor or outdoor places. Don't wait any more! Buy one to attract more children and make your business flourish!
What Other Rides Are There in a Children's Amusement Park besides a Small Roller Coaster?
A small roller coaster for sale is a good choice for many entertainment places, such as children's amusement parks, theme parks, fairgrounds, carnivals, parks, backyards, gardens, shopping malls and so on. If you are new and about to invest in a children's amusement park, the first thing you should do is to make a park plan and then decide what amusement park rides to buy.
It is no exaggeration to say that TR small roller coaster for sale is a must-have at your park. It is exciting and fun enough for children, especially preschoolers. Also, you might want to know that what other rides in addition to the coaster ride are a good investment for a children's amusement park. By and large, a merry-go-round and a Ferris wheel are must. Also, a swing carousel, pirate ship, self-control plane, frog hopper ride, samba tower ride, and small pendulum equipment are suitable for kids to take a ride. Furthermore, you can consider buying a train ride, bumper cars, or an indoor playground. All these rides are available at TR.
In short, the TR small coaster attraction for sale is worth the investment for both indoor and outdoor use. Adults and children alike will fall in love with this fun, thrill ride. You can trust us. We are a professional manufacturer, providing you with a variety of high quality amusement rides and free park designs. Feel free to contact us at any time and we are looking forward your inquiry!