A pirate ship amusement ride is a type of thrill ride. At the same time, it is as common as a roller coaster ride or a Ferris wheel at an amusement park, theme park or fairground. To meet the market, professional manufacturers have designed and produced different types of pirate ships in large and small sizes. If you are about to add more fun to your business, consider buying a pirate ship ride from a reliable manufacturer like TR. Here are the details of the pirate ship ride for your reference.
What Experience Does the TR Pirate Ride Bring to Your Visitors?
Our pirate ship amusement ride is a mechanical swing ride for sale. After it starts, it swings back and forth. With the reciprocating swing from slow to fast, your visitors feel as if they are in a stormy sea. Sometimes it rushes to the top of the wave and sometimes it falls to the bottom. In addition, passengers sitting in different positions of can experience different degrees of weightlessness, which challenge their limits. In short, our Viking ship amusement ride will bring your visitors a memorable experience and entice them to ride again.
How Big a Pirate Ship Do You Need for Your Business?
Our pirate ship pendulum ride is easy to install and is suitable for most places such as amusement parks, theme parks, carnivals, fairs, parks, backyards, shopping malls, etc. As long as you choose a suitable location to install it, you will get a steady stream of income from the equipment. In short, choosing the right size swing boat ride is the first thing to start your business.
Where to
Buy

a Pirate

Ship

?
There are many amusement ride manufacturers all over the world. Choosing a reliable and powerful pirate ship ride manufacturer is the most important thing. You can trust TR.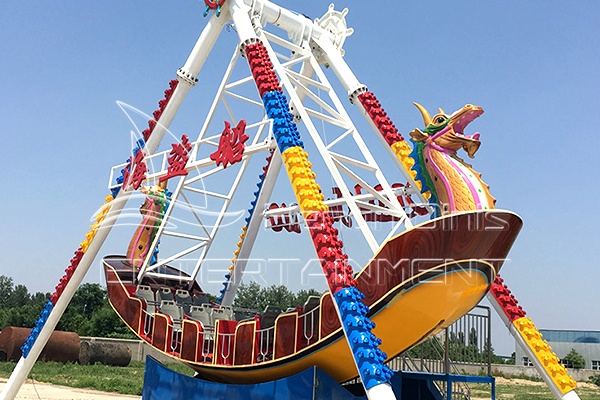 To sum up, a pirate ship ride for sale is a good investment for your business. It is popular with people of all ages and suitable for indoor and outdoor use. You can choose a suitable one based on your venue and budget. If you are about to start a park business, feel free to contact us. We are free for CAD park designs and can provide you with professional advice.